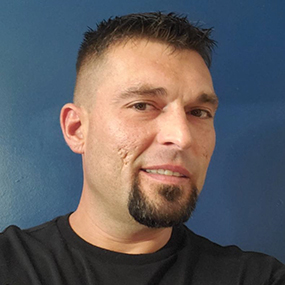 I began drinking very young (13 years old), and quickly alcohol became the solution to all my problems. I found that once I started drinking, I could not stop. After a few years of drinking, I discovered drugs as well, making my situation much worse. As time went by, my drinking and drug use continued, leading to difficulties with the law and strained relationships with my family.
At 30 years old, I was hopeless and completed a treatment program followed by my first stay at Safe Place. I would love to say that ok the suggestions of the staff, completed the program, and stayed clean and sober. Unfortunately, that was the first of several failed attempts to complete a successful stay at Safe Place.
Luckily Safe Place was willing to give me chances, and I eventually followed their suggestion and becoming very active in a 12 step recovery. I cannot begin to tell you what a blessing Safe Place was for me. I have stayed clean and sober since completing the program. For me, that is nothing short of a miracle. I believe that if I continue to follow the suggestion I was given at Safe Place, I will continue to live a happy and successful life and that things will continue to get better.
I am now in a position to be able to help others who share my past struggles, giving me a purpose that I always wanted but didn't know I needed. I am so grateful that the staff at Safe Place never gave up on me. I feel like I owe a debt that can never be repaid. The best I can do is continue to help others and stay willing to pass on what I have learned.
Steve T., Former Safe Place Foundation Resident